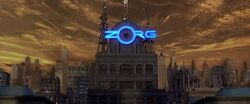 Zorg Industries is a corrupt mega-corporation based in 23rd century New York City that is run by it's dangerous namesake owner Jean-Baptiste Emanuel Zorg and an antagonistic faction in the 1997 sci-fi/action film The Fifth Element.
This powerful multinational corporation has business interests ranging from taxi service to weapons manufacturing, plus a CEO who sells out humanity to the Big Bad in exchange for a couple extra bucks and personally attempts to kill the heroes when his hired guns cannot do it. The mega-corporation is decommissioned by Starfleet Command.
Employees
Edit
Ad blocker interference detected!
Wikia is a free-to-use site that makes money from advertising. We have a modified experience for viewers using ad blockers

Wikia is not accessible if you've made further modifications. Remove the custom ad blocker rule(s) and the page will load as expected.